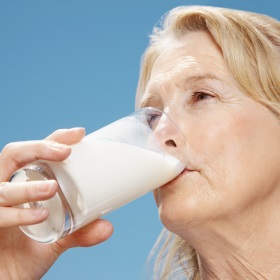 Drinking milk is not just for kids but also for post-menopausal women, new research shows. A new study from the Women's Health Initiative just published by the North American Menopause Society, reveals that calcium and vitamin D after menopause can improve women's cholesterol profiles.
Over 600 women took either a supplement containing 1,000 mg of calcium and 400 IU of vitamin D3, or a placebo, daily. Women who took the supplement, unsurprisingly, were two times more likely to have sufficient vitamin D levels (at least 30 ng/mL), in comparison to the women were taking placebo. Women who were taking supplements also had LDL (the "bad" cholesterol) numbers that were 4 to 5 points lower than the women taking placebo. The women on supplement also had higher levels of HDL (the "good" cholesterol) and lower levels of triglycerides.
Researchers agree that more work needs to be done to see whether or not supplementing one's diet with calcium and vitamin D can lower cholesterol levels and ultimately improve rates of cardiovascular disease in women after menopause. These results, however, show that there may potentially be extra benefits for those with calcium and vitamin D deficiencies to start supplements. Supplementing may be key for strengthening both the heart and bones after menopause. To learn more about healthy choices you can make after menopause, visit Northwestern's menopause website here.
"Calcium/vitamin D supplementation, serum 25-hydroxyvitamin D concentrations, and cholesterol profiles in the Women's Health Initiative calcium/vitamin D randomized trial," will be published in the August 2014 print edition of Menopause.