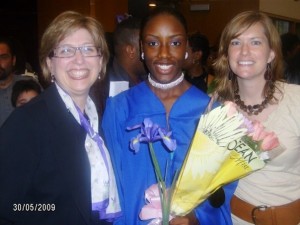 Dr. Teresa Woodruff and Megan Faurot, WHSP Directors, with high school graduate who will be entering college in the fall.
For the third consecutive year, 100% of the high school seniors who participated in the Women's Health Science Program for High School Girls and Beyond (WHSP) have successfully graduated from high school and will be going on to college in the fall.  Students selected to participate in WHSP attend Young Women's Leadership Charter School (YWLCS). Twenty-one of the 51 student 2010 senior class of YWLCS participated in one or more of the WHSP academies.  To date WHSP has offered three academies, Oncofertility Saturday Academy, Cardiology Summer Academy, and Infectious Disease Summer Academy. The 21 WHSP high school seniors were accepted to a total of 63 colleges and universities across the nation.
A primary goal of WHSP is to provide the high school students with the opportunity to explore and prepare for academic programs and careers in science and medicine.  There are now a total of 53 WHSP students who have made the successful transition from high school to college.  The WHSP research team is tracking the academic and career behaviors of the students for up to 10 years after graduating from high school.
Colleges and universities where the WHSP students will be dispersing to in the fall, include:
Tennessee State University
University of Illinois at Chicago
California State University, Los Angeles
Clark Atlanta University
North Park University
Ursinus College
DePaul University
The College of Wooster
Knox College
Coe College
Michigan State University
Arizona State University
Alabama A&M University
Kennedy King College
Sweet Briar College
Congratulations WHSP students!
To learn more about WHSP visit whsp.northwestern.edu.