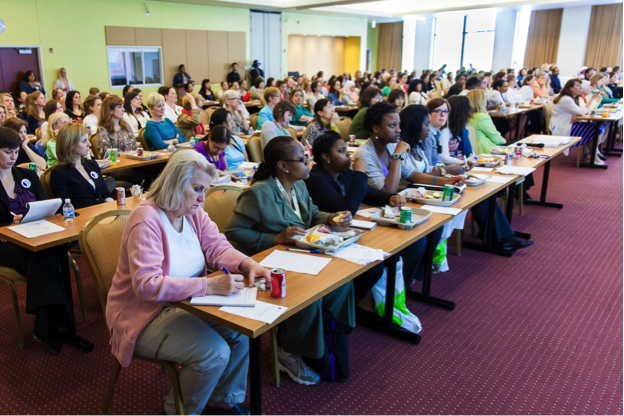 The Women's Health Research Monthly Forums were introduced by the Institute in September 2008.  The monthly forums were developed to address a significant barrier to advancing women's health research: lack of awareness among health professionals and researchers that sex and gender matter in health and disease. Through the monthly forums, the Institute provides a platform for leading professionals to present their evidence-based research that focuses on basic science, clinical applications, or social implications of sexual dimorphisms.  Each month over 200 faculty and staff from Northwestern University and Northwestern Memorial Hospital attend the forum - some are new attendees and many more are returning attendees who have come back for additional authoritative women's health knowledge.  Forum lecture notes and videos are available for select lectures and can be found below.
Please note, there are no upcoming forum dates for 2020. 
Past Monthly Forums (2016 - 2017) 
 December 12th, 2017 - The WHRI 10th Anniversary Celebration  -- Dr. Teresa Woodruff 
November 7th, 2017 - How to Care for Women with Opioid Use Disorders Who Become Pregnant: What Research Tells Us -- Dr. Hendree Jones 
April 18th, 2017 - Sex Differences in Maternal Phenotype, Maternal Metabolites and Newborn Metabolites in the Hyperglycemia and Adverse Pregnancy Outcome (HAPO) Study European Cohort -- Dr. Victoria Sandler 
March 21st, 2017 - Depression in Women: 7 Strategies to Improve Treatment Outcomes -- Dr. Katherine Wisner 
February 21st, 2017 - Expanding the Scope of Mindfulness: Examining the acceptability, feasibility and effectiveness of a mindfulness based intervention for depressed women in an urban Federally Qualified Health Center -- Dr. Inger Burnett-Zeigler
December 13th, 2016 - Innovations in Assisted Reproductive Technologies --Dr. Eve Feinberg, Click here to watch the lecture video! 
November 15th, 2016 -  Differences in Sex Development: What We Know and So Much We Don't --Dr. Courtney Finlayson, Click here to watch the lecture video!  
October 18th, 2016 - Behavioral Treatments for Women with Irritable Bowel Syndrome --Dr. Sarah Kinsinger, Click here to watch the lecture video! 
September 13th, 2016 - Why Sex Matters in Multiple Sclerosis and Other Autoimmune Diseases --Dr. Melissa Brown, Click here to watch the lecture video! 
July 19, 2016- An Affective Neuroscience Model of Prenatal Health Behavior Change --Dr. Suena Massey, Click here to watch the lecture video! 
May 10, 2016- Genetics and Personalized Medicine--Dr. Elizabeth McNally, Click here to watch lecture video!
April 19, 2016- Back to the Basics: the Fundamental Importance of Partnership to Improve Population Health--Dr. Melissa Simon
March 22, 2016- Osteoporosis Prevention, Diagnosis, and Treatment: Now and the Future--Dr. Paula Stern and Dr. Allison Hahr, Click here to watch lecture video! 
January 19, 2016-Medications and Pregnancy: Balancing Risks, Benefits, Metabolism, and Disease--Dr. Crystal Clark, Click here to watch lecture video!
---
In October 2015, the Women's Health Research Institute partnered with Northwestern Medicine to provide overviews on sex-inclusive medicine in specific clinical areas. Please follow the links below to watch these videos and learn about sex differences in these specific clinical areas:
Cardiology, presented by Dr. Marla Mendelson
Depression, presented by Dr. Sheehan Fisher
Dermatology and Skin Disease, presented by Dr. Bethanee Schlosser
Gastroenterology and Behavioral Medicine, presented by Dr. Sarah Kinsinger
HIV, presented by Dr. Sarah Sutton
Neurology, presented b Dr. Elizabeth Gerard
Pelvic Health, presented by Dr. Kimberly Kenton