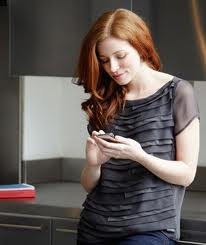 Brooding in your apartment on Saturday afternoon? A new smart phone intuits when you're depressed and will nudge you to call or go out with friends.
It's the future of therapy at a new Northwestern University Feinberg School of Medicine center where scientists are inventing web-based, mobile and virtual technologies to treat depression and other mood disorders. The phone and similar projects bypass traditional weekly therapy sessions for novel approaches that provide immediate support and access to a much larger population.
"We're inventing new ways technology can help people with mental health problems," said psychologist David Mohr, director of the new Center for Behavioral Intervention Technologies and a professor of preventive medicine at Northwestern's Feinberg School. "The potential to reduce or even prevent depression is enormous."
"These new approaches could offer fundamentally new treatment options to people who are unable to access traditional services or who are uncomfortable with standard psychotherapy," Mohr added. "They also can be offered at significantly lower costs, which makes them more viable in an era of limited resources."
The goal is for the center to become a national resource, offering a library of intervention technologies that will be available to other researchers.
Among the center's projects:
A REALLY SMART PHONE READS YOUR MOOD
A smart phone spots symptoms of depression by harnessing all the sensor data within the phone to interpret a person's location, activity level (via an accelerometer), social context and mood.
Are you making phone calls and getting e-mails, or are you home alone ruminating for hours? If the phone – which learns your usual patterns -- senses you are isolated, it will send you a suggestion to call or see friends. The technology, which still is being tweaked, is called Mobilyze! and has been tested in a small pilot study. It helped reduce symptoms of depression.
The new phone offers a powerful new level of support for people who have depression and intervenes to help them change their behavior in real time.
"By prompting people to increase behaviors that are pleasurable or rewarding, we believe that Mobilyze! will improve mood," Mohr said. "It creates a positive feedback loop. Someone is encouraged to see friends, then enjoys himself and wants to do it again. Ruminating alone at home has the opposite effect and causes a downward spiral."
Darren Gergle, associate professor of communication studies in the School of Communication, is a co-investigator on the project.
Also in the works at the National Institutes of Health-funded center: a virtual human therapist who will work with teens to prevent depression; a medicine bottle that reminds you to take antidepressant medication and tells your doctor if the dosage needs adjusting; a web-based social network to help cancer survivors relieve sadness and stress.
by Marla Paul is the health sciences editor at Northwestern