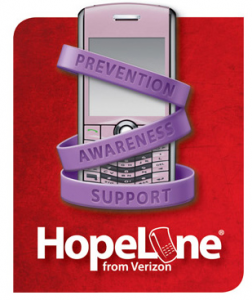 Women are 90-95% more likely to be victims of domestic violence than men.  While domestic violence is more common among women (one in four women experience domestic violence in the United States), men and children are victimized too, totaling in epidemic-like proportions.  Verizon Wireless has decided to take action. In their community outreach program called HopeLine, Verizon collects hundreds of thousands of donated phones and turns them into support for domestic violence organizations across the nation. The fact that phones and technology are an "especially safe and reliable way for domestic violence victims and survivors to reach emergency or support services in times of crisis," proves that this type of resource can save lives.
How it works: HopeLine collects used wireless phones and accessories and refurbishes or recycles them, using profits from the refurbished phones to fund non-profit agencies to buy wireless phones for victims of domestic violence.  The recycled phones have kept more than 260 tons of electronic waste and batteries out of landfills since HopeLine's inception in 2001.  In total, over 10 million phones have been collected by HopeLine, $18.1 million dollars has been donated to domestic violence prevention organizations, and 151,000 HopeLine phones have been donated to victims and survivors since 2001. To donate your used phone to the HopeLine program, simply drop off your phone at any Verizon Wireless store.  To read more about HopeLine, click here.
To read more about domestic violence, click here.