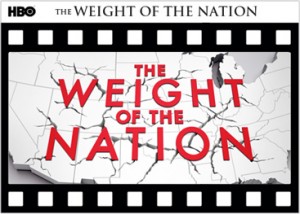 In May 2012, an HBO Documentary Films series on obesity, "The Weight of the Nation," premieres.  Make sure you view the trailer, it's explosive!  The four-part series—Consequences, Choices, Children in Crisis, and Challenges—highlights several NIH research advances and addresses the factors contributing to the country's obesity problem. The films are the centerpiece to a public awareness campaign, which also includes a three-part HBO Family series for kids, 12 short films, a website and social media, and a nationwide community-based outreach effort using free film discussion guides and other tools. To visit the website and see the trailer click HERE.
The network, in consultation with NIH and other major health organizations, developed four documentaries focused on obesity. The project also includes a three-part HBO Family series for kids, 12 short features, a social media campaign, and a nationwide community-based campaign to mobilize action to move the country to a healthier weight.
"If we don't take the obesity epidemic seriously as individuals and as a nation, we will pay a serious price," said NIH Director Francis S. Collins, M.D., Ph.D., who appears in all of the main documentaries in the series. "It's going to take diverse and rigorous research to understand the causes of obesity and to identify interventions that work in the real world. The results from federally funded research, as seen in these documentaries, can help to prevent and treat obesity and its complications."
More than one-third of adults in the United States and nearly 17 percent of the nation's children are obese, which increases their chances of developing many health problems, including type 2 diabetes, heart disease, high blood pressure, stroke, fatty liver disease, and some cancers. In 2008, the nation's obesity-related medical costs were an estimated $147 billion.