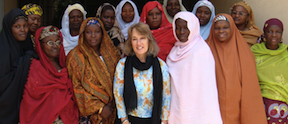 Policy changes are necessary to decrease the death rate of pregnant women in developing countries.  Research, according to Dr. Stacie E. Geller, does not end once scientists publish.  The true battle is implementing that research to affect global change.  Dr. Stacie E. Geller, Director of the Center for Research on Women and Gender at the University of Illinois at Chicago College of Medicine, puts research into practice by providing safe, affordable medication to pregnant women in developing countries.  Dr. Geller spoke last week at a forum held at Northwestern University's Feinberg School of Medicine and presented her research on Postpartum Hemorrhaging (PPH) and its dangers to women in developing countries.
In 2008, there were an estimated 358,000 maternal deaths occurring during childbirth, 99% of these deaths occurring in developing countries. Such global disparities are reflected in the limited access to skilled birth attendants, restricted access to medications, rudimentary delivery facilities, and complications surrounding reliable transportation and communication in developing countries.  Postpartum Hemorrhaging (PPH) is the leading cause of maternal mortality worldwide, accounting for 30-50% of all maternal deaths in Africa and Asia alone.  While the drug Oxytocin is used to prevent PPH in developed countries, developing countries do not have the resources to preserve and administer this drug.  Dr. Geller began studying the drug Misoprostol as an alternative to Oxytocin to be used in developing countries due to its low-maintenance storage and cost-effectiveness.
Dr. Geller, along with a team of researchers traveled to communities in India and Ghana to study Misoprostol for prevention of PPH in home-birth settings.  Their research proved that Misoprostol provides a safe and efficacious alternative to Oxytocin in these communities, but Dr. Geller didn't stop there.  She worked with the Indian Ministry of Health to approve the use of Misoprostol for PPH prevention by Auxillary Nurse Midwives (ANMs). In Ghana, Dr. Geller engaged with health stakeholders at all levels, conducted community sensitization and trainings, monitored the safe use of Misoprostol, and empowered women to take control of their health.  Furthermore Dr. Gellar's success strengthened the networks of health providers, decreased maternal mortality and morbidity (due to PPH), and established a model for all of Ghana and other developing countries.  Dr. Geller was a primary advocate credited for Misoprostol's addition to the WHO's list of essential medications for the prevention of PPH in 2011, an accreditation which has a lasting global impact.
Dr. Geller stresses the importance of political will in enacting policy changes from scientific research.  Government engagement is critical in reducing maternal deaths, and a scientist's work is not over once research is published.  Advocating for women's sexual and reproductive rights, their access to equal treatment, and their right to effective medicine should inspire all researchers to utilize their knowledge to facilitate global change.
To read more about Dr. Stacie Geller and her ongoing research, please click here.