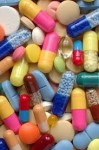 Did you know that most adverse drug side effects that are reported are done so by women?  This is why we advocate so strongly for the inclusion of males AND females in all animal and human drug studies.  It's important that consumers report any bad experiences to the FDA!
A new consumer-friendly form is now available for making reports to MedWatch, FDA's on-line system for collecting information about serious problems with drugs, medical devices and other FDA-regulated products.
The less technical form is part of a larger effort to encourage consumers to submit quality reports. By reporting your experience or suspicion of a product problem to MedWatch, you could help identify an unknown risk and potentially spark a variety of actions—from changes to a warning label to removal of the product from the market.
Read this Consumer Update to learn more about what FDA is doing to increase consumer participation in MedWatch.