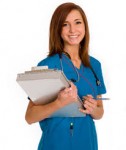 It is only fitting that the theme for this year's National Nurses Week is "Nurses: Leading the Way." After all, nurses lead the way in showing an elderly patient how to manage his or her diabetes. They lead the way in making sure their patients – children and adults – get the vaccinations they need. They lead the way in helping our young moms learn how to care for their infants. And they lead the way in conducting research to promote high-quality life for those with chronic illnesses, and to help all of us stay healthy across the lifespan. According to the U.S. Dept of Health and Human Services, nurses have played a big part in clarifying insurance issues related to the Affordable Care Act.
As a result of funding through the Affordable Care Act and other investments, the Administration has greatly expanded the National Health Service Corps and the NURSE Corps, two initiatives that provide educational loan repayment and scholarships in return for practice in the nation's medically underserved communities. More than 3,680 National Health Service Corps and NURSE Corps nurses – including 1,889 nurse practitioners and 1,475 registered nurses – are providing care across the country to those who need it most.
National Nurses Week culminates on May 12, the anniversary of the birthday of perhaps the most famous nurse, Florence Nightingale, the original nurse leader.  Please join us this week and all the weeks that follow in recognizing nurses across the country for following in Florence's footsteps and thanking them for the critical work they do in bringing better care and better health to all Americans.
For more information on the Department's nursing loan repayments, scholarships, and research grants, and to take part in Nurses Week activities including the #IAMANURSE social media campaign, please visit hrsa.gov/nursesweek.