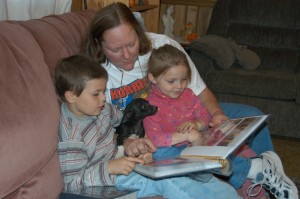 A recent Food and Drug Administration (FDA) MedWatch Safety Alert warns women to make sure children and pets do not come into contact with Evamist that they have sprayed on their skin.    Evamist is a transdermal spray containing estradiol, a form of estrogen. It is sprayed inside of the forearm between the elbow and wrist to reduce hot flashes during menopause. Each squirt of spray delivers 90 mcL which contains 1.53 mg of estradiol and is FDA approved for this use.
The FDA has received reports of side effects in children who were unintentionally exposed to Evamist.   Side effects include:
nipple swelling and breast development in girls
Breast enlargement in boys
FDA has also received reports of unintentional exposure in pets, which may show signs of mammary/nipple enlargement and vulvar swelling.
The FDA recommends that you do not allow children to come in contact with area of the arm where Evamist was sprayed.  If a child is exposed to Evamist, wash the child's skin with soap and water as soon as possible.      Contact the child's health professional if nipple or breast swelling or breast tenderness occurs in girls, or breast enlargement occurs in boys.    Do not allow pets to lick or touch the arm where Evamist was sprayed.   Small pets may be especially sensitive to Evamist.   Contact a vet if your pet shows any signs of illness, including enlargement of the nipples or vulva.
Women who use Evamist should wear clothing that covers the arm sprayed with the drug if they cannot prevent accidental contact.
The FDA