Diabetes mellitus is an endocrine disease affecting approximately 7% of the US population.  Diabetes is categorized into two classes: Type 1, or insulin dependent diabetes, and Type 2, or adult onset diabetes.
Type 1 Diabetes is a condition in which the pancreas produces little or no insulin, a hormone necessary for the metabolism of glucose.  Type 1 Diabetes is generally diagnosed in childhood or early adolescence and is considered to be primarily genetic in origin.  Symptoms include extreme hunger, fatigue, rapid weight loss and blurry vision.  There is no cure for Diabetes, but successful treatment includes insulin injections, blood sugar monitoring, a healthy diet, and regular exercise.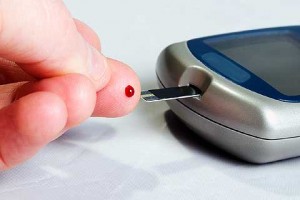 http://www.babble.com/CS/blogs/strollerderby/2009/02/diabetes_0.jpg
Type 2 Diabetes accounts for 90-95% of all Diabetes cases in the United States.  In Type 2 Diabetes, the body is either insulin resistant or the pancreas does not produce enough insulin.  This type is often preventable and is strongly linked to obesity.  Symptoms are similar to Type 1 Diabetes but, depending on the severity, treatment may only include blood sugar monitoring, a healthy diet, and regular exercise.  Severe or advanced cases may require medication and/or insulin injections.
Resources at Northwestern for Diabetes:
The Division of Endocrinology at Northwestern Memorial Hospital provides comprehensive diagnosis and treatment for a variety of endocrine related disorders.  Physicians in the department specialize in endocrine tumors, endocrine disease genetics, gestational diabetes, and offer specialized services in diagnosis and treatment of Type 1 and Type 2 Diabetes.  The department participates in a variety of NIH-sponsored research trials.  Results from NMH's participation in the National Institute's of Health 10-year study on prevention of type 2 diabetes can be found at http://www.feinberg.northwestern.edu/news/2009C-October/Diabetes.html.
Click to see physician finder:
http://nmhphysicians.photobooks.com/
Northwestern Physicians/ Researchers specializing in Diabetes treatment:
The Division of Endocrinology, Metabolism, and Molecular Medicine at Northwestern University features a diverse faculty, many of whom are leaders in their field.  The department, headed by Dr. Andrea Dunaif, is committed to clinical and basic science research development and training.  The research interests of the department are diverse and extend to multiple subfields of endocrinology.  Researchers studying diabetes include Dr. Franck Mauvais-Jarvis, who studies the role of estrogen receptors in pancreatic cells, Dr. M. Geoffrey Hayes, PhD, who studies the genetic components of diabetes, and Dr. Boyd E. Metzger, MD, whose research on gestational diabetes has been widely published.
IWHR Highlighted Researcher
Dr. Robert F Kushner, MD, MS is the Clinical Director of the Northwestern Comprehensive Center on Obesity and a Professor of Medicine at the Feinberg School of Medicine.  Dr. Kushner has published various books, book chapters, and articles and serves on the editorial board of various prestigious journals including Obesity, Obesity Management, and the Journal of the American Dietetic Association.  Popular publications include Dr. Kushner's Personality Type Diet, Treatment of the Obese Patient and Fitness Unleashed: A Dog and Owner's Guide to Losing Weight and Gaining Health Together.  Although Dr. Kushner's research interests are in obesity and nutrition, his research and publications have implications for a diabetic population.  Recently he published a study in Obesity examining various lifestyle interventions for prevention of weight gain in type II diabetic patients taking the common diabetes medication pioglitazone (Actos®).  The study showed that the weight gain side effects commonly associated with this medication can be diminished or alleviated by lifestyle interventions such as medical nutrition therapy (MNT).  The greatest success was seen in patients who received intensive follow up MNT, which included lessons in meal planning, food preparation, goal-setting and exercise recommendations.
For information on Dr. Kushner or to purchase his books:
http://www.counselingoverweightadults.com/
Other Useful Links and Resources:
http://www.nlm.nih.gov/medlineplus/diabetes.html
http://www.cdc.gov/diabetes/
http://www.diabetes.org
http://www.dlife.com/