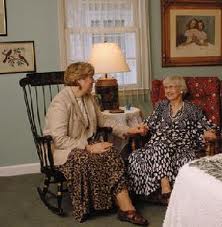 Alzheimer's disease affects twice as many women as it does men, according to a new report that portrays women as being "under siege" by the dreaded condition.
Created in conjunction with California first lady Maria Shriver, "The Shriver Report: A Woman's Nation Takes on Alzheimer's" shows that two-thirds of the people living with Alzheimer's are women, and 60 percent of Alzheimer's caregivers are women.  Shriver became involved in the issue when her father, Sargent Shriver, 94, was diagnosed with the disease in 2003.
The report finds that primary caregivers to Alzheimer's patients are six times more likely to develop the disease, or other forms of dementia, themselves, in part because of the emotional stress and physical demands of providing care to relatives and loved ones.
The estimated societal impact of the disease on government and businesses is $300 billion a year, according to the report.
Scripps Howard News Service