Earlier this month,  the Women's Health Research Institute welcomed 25 high school students from across the Chicagoland area to Northwestern University for a field trip focused on careers in biomedical research. The visit was organized in collaboration with the Step Up Women's Network, a non-profit organization which hosts after-school programs designed to empower young women to be college-bound and career-focused.
As part of Step Up's Pathways to Professions series, the students learned about the various career paths in biomedical research including research scientist, clinical study coordinator, veterinary technician, histologist, and research administrator. The students also had an opportunity to participate in hands-on laboratory activities and tour NU's Center for Advanced Microscopy. At the end of the day, the students enjoyed lunch and a roundtable discussion with several NU students, faculty, and staff.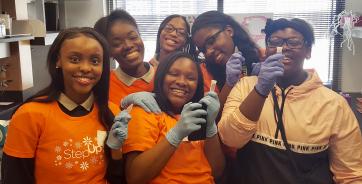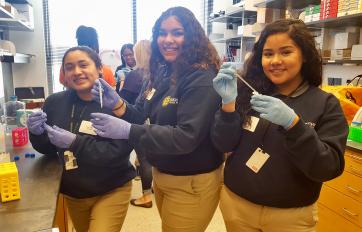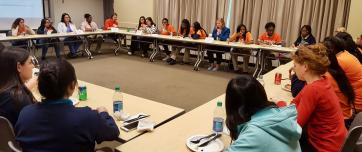 This event was sponsored by the Women's Health Science Program which supports young women from underserved communities with who are considering careers in science and medicine and prepares them with valuable knowledge and skills to successfully become the next generation of women science leaders.
For more information about WHSP, including our upcoming summer program, click here.
For more information about Step Up Women's Network, click here.