I know what you're thinking, this is a Women's Health Blog - but we like men here too.  A recent study published in Nature (and featured in the New York Times) reveals some interesting new insight into the X-chromosome's somewhat puny-looking counterpart.  Researchers Jennifer Hughes and David Page at the Whitehead Institute have discovered that the Y-chromosome appears to be evolving much faster than the rest of the genome.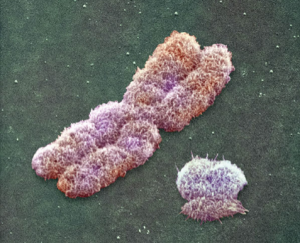 http://www.nature.com/nature/journal/v423/n6942/images/423810a-f1.2.jpg
Humans have 23 pairs of chromosomes (46 total); two of those chromosomes, called the sex chromosomes, are responsible for determining the sex of a human. Women have two of the same chromosomes, named X (see "What's with the dancing X chromosomes?"), while men have one X chromosome and one Y chromosome, thus resulting in a mismatched pair.  Scientists have known for quite some time that the Y chromosome originally contained the same genes as the X chromosome, but has lost most of those genes through evolution.  Because of this, scientists have believed that the Y chromosome has been degrading through gene loss and has reached, or will reach a static state.
This new research however may prove otherwise.  In their study, Drs. Page and Hughes compared the genetic makeup of the human and the chimp.  Since chimps and humans shared a common ancestor just six million years ago, the differences in the genomes can help determine rates of evolution in the species.  The researchers found that while the chimp and human genomes differed in less than 1 percent of their DNA, comparison of the Y-chromosomes shows a difference of 30%.  This data indicates that this chromosome in particular is not static, but is in fact evolving at a greater rate than the rest of the genome.
The researchers suggest that some of this rapid evolutionary diversity might be attributable to differences in the mating patterns of humans and chimps and the large role of genes on the Y chromosome in sperm production.  A unique feature of the Y chromosome is that because it occurs in a mismatched pair with the X chromosome, it cannot exchange genes (called crossing-over) prior to meiotic cell division the way that the other twenty-two chromosomes do.   This places increased selective pressure on the Y chromosome, since a change in one gene must affect the reproductive fitness of the others.  In addition, the structure of the Y chromosome provides it with the opportunity to exchange genes with itself, which could accelerate the rate of change in its genetic sequence.
So does this mean that men are evolving faster than women?  No it doesn't (sorry guys).  However, according to Andrew Clark, a geneticist at Cornell University (see NYT article), the rapid changes of the Y chromosome could have broader effects on the rest of the human genome.  Only further research will tell…