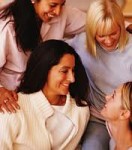 I think women want to feel independent, that we can conquer the world on our own.  Sometimes it can be hard to ask for help.
Having issues getting pregnant can be one of those times.  Most of us assume that it's easy; you get off birth control, have sex, and you're pregnant! However, for many women, especially those who delay their first pregnancy until they are older,  getting pregnant can be anything but easy.
Struggling to get pregnant and going through infertility treatments is stressful; it can be a lonely time.  No one should have to go through it alone!
Support groups can be an amazing resource for women while on their infertility journey.  It can be therapeutic to open up and share your feelings and your fears with peers who understand and are going through the same experience.
My own personal journey through infertility inspired me to create a unique support community called Shine (www.shinechicago.com);  group sessions combine peer support as well as professional guest speakers from the women's health community.
From my own experience, I can say first hand how important support is while going through a difficult time.  Your partner is your first layer of support, but it can be helpful and healthy to have another place to turn, both for your own emotional health and the health of your relationship.
So know it's okay to be vulnerable, it's okay to reach out for help, it's okay to open up about your story!  One of my favorite quotes relates so well to infertility: "strength doesn't come from what you can do, it comes from overcoming the things you once thought you couldn't."
Guest blogger: Katie O'Connor (Founder, Shine Chicago: a ray of light on infertility)