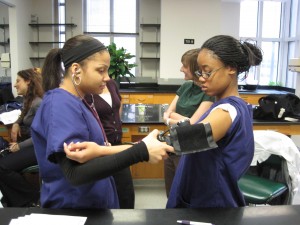 Ashley J. and Aryana M. practice taking each other's blood pressure.
On Thursday, March 11, 2010 the Institute for Women's Health Research in collaboration with Young Women's Leadership Charter School graduated 29 high school girls from the Oncofertility Saturday Academy.  Over 100 guests - parents, siblings, aunts, uncles and faculty - came to the graduation to celebrate the high school girls new science and health knowledge and experiences gained over the past two months.  Each high school girl came prepared with a graduation reflection speech to share how the program impacted them in personal, social, and academic ways.  The Chicago Tribune interviewed three high school girls on the night of graduation and published an article titled, "Program Opens Girls' Eyes to Science."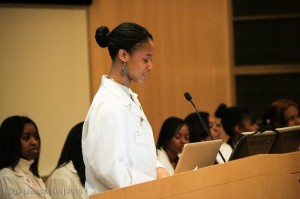 Aryana M. reads her OSA graduation speech with confidence.
Aryana M. walked proudly up to the podium, wearing her white laboratory coat, and with confidence read her speech.  "Women are capable of doing anything if they put their minds to it. Determination is the key to what can be achieved and how it can be achieved. As I have participated in Oncofertility Saturday Academy for two years, I have grown into a very determined young lady who has the goal of pursuing a career in bioengineering. Every Saturday we encounter new experiences with lab work, clinical simulations, healthy lunches, and hard core work out sessions. With each experiment and session we had many learning experiences for future life situations."
To date a total of 65 high school girls have participated in the Oncofertility Saturday Academy.  100% of students who participate in OSA go on to college.  Currently, of the 32 who are in college, 28 are actively pursuing science majors.  The Oncofertility Saturday Academy is one of four academies offered by the Women's Health Science Program for High School Girls and Beyond, a program created by the Institute for Women's Health Research.