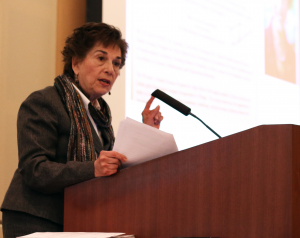 This past Tuesday, the Women's Health Research Institute welcomed U.S. Rep. Jan Schakowsky in the celebration of the recently announced National Institutes of Health (NIH) and Food and Drug Administration policies to include women in basic science and clinical studies. The event attracted over 200 guests and WHRI Director Teresa Woodruff, PhD shared the floor with Congresswoman Schakowsky and Jay Walsh, PhD, Vice President for Research at Northwestern University. 
Since the launch of the Women's Health Research Institute in 2007, its members have advocated for policy that addresses the need to examine sex as a research variable from bench to clinical science. Walsh stated, "I look forward to watching, over the rest of my career, the results that will come out because of this new notice from the NIH, that would not have come out if there hadn't been such leadership that exists in women's health." Woodruff and her team of Leadership Council members (comprised of researchers and clinicians across the Feinberg School of Medicine) celebrated these new policy rollouts as a major victory for women's health--health that extends beyond pregnancy, breast cancer, and menopause.
Read more about the event on Northwestern University's Feinberg School of Medicine news page.