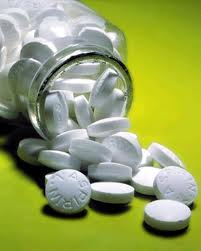 For years we criticized heart researchers for not including women in the early studies that recommended aspirin to prevent heart disease.  We asked:  How can you recommend aspirin in women when all the studies took place in males!  In 2007, after additional studies that included females, the American Heart Association released guidelines for the CVD preventive care in women including aspirin. Their recommendations:
Primary prevention (other at-risk or healthy women):   Consider aspirin therapy in women

>

65 years if blood pressure is well-controlled and benefit for ischemic stroke and myocardial infarction prevention is likely to outweigh the risk of gastrointestinal bleeding and hemorrhagic stroke.
Secondary prevention (high risk):  Aspirin therapy should be used in high-risk women (established coronary heart disease, cerebrovascular disease, peripheral arterial disease, abdominal aortic aneurysm, end-stage or chronic renal disease, diabetes, and 10-year Framingham risk>20%) unless contraindicated.
A recent study, using a web-based risk assessment tool found that the majority of women for whom aspirin is recommended were not following national guidelines.  The authors led by Cathleen Rivera, MD at Scott and White Healthcare in Texas concluded that there is a need for more education about aspirin among clinicians and women for increased prevention of heart disease.  Given the rising direct and indirect costs of cardiovascular disease, it makes sense that health care providers take a closer, serious look at the increased use of low cost aspirin in lieu of designer heart meds.!
Source:  Rivera C, Song J, Copeland L et al.  Journal of Women's Health, Vol. 21, 2012.