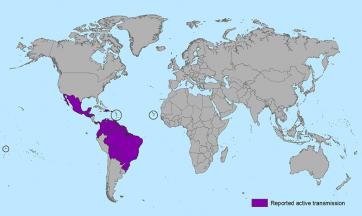 The Zika virus has had a lot of press recently, and it is important to understand the facts surrounding this virus. The Zika virus is transmitted by mosquitoes and can cause a fever, rash, joint pain, or head ache. Most troublingly, this virus is suspected to lead to birth defects if a pregnant mother contracts Zika. While there is currently no vaccine to prevent Zika, you can best protect yourself by avoiding mosquito bites when traveling to countries where this virus is found. Zika has primarily spread in South America and Central America, with a few exceptions.
Click here for a full list of countries and territories with active Zika virus transmission.
Your best defense against Zika is to refrain from traveling to areas where there are outbreaks and protect yourself against mosquito bites in those areas. Here are some general tips:
Wear long-sleeved shirts and long pants
Stay in places with air conditioning or door screens to keep mosquitoes outside
Sleep under a mosquito bed net
Use insect repellents
Today the World Health Organization declared the Zika virus an international public health emergency, giving seriousness to this outbreak. W.H.O. officials are most concerned with the virus's possible link to microcephaly, a condition that causes babies to be born with brain damage and unusually small heads. The Zika virus was first detected last may in Brazil and has moved into more than 20 countries in Latin America, so pregnant women should consider postponing travel to areas where this virus transmission is ongoing. 
Source: The CDC