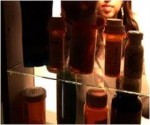 This is Poison Awareness Week and the Institute for Women's Health Research sponsored a forum featuring Dr. Carol DesLauriers  a pharmacist from the Illinois Poison Center, the nation's oldest poison center. Did you know that nearly 75% of poisoning deaths in the U.S. are due to unintentional poisoning? Unintentional poisoning includes the use of drugs or chemicals for recreational purposes in excessive amounts (an 'overdose').  It also includes the excessive use of drugs or chemicals for non-recreational purposes, such as by a toddler.   Unintentional poisoning  was second only to motor vehicle crashes as a cause of unintentional injury death for all ages in 2007.   Among people 35-54 years old, unintentional poisoning caused more deaths than motors vehicle crashes.
The majority of unintentional poisoning deaths were caused by drugs.  Opioid pain medications (methadone, hydrocodone, oxycodone) were the most commonly used followed by cocaine and heroin.  While the latter two drugs are gotten solely on the street, the others are available legitimately by prescription.  These drugs can be beneficial but it is the misuse of these products that are causing deaths.   Of great concern is the fact that teens often get these drugs from their parent's medicine cabinets.  As Dr. Deslauriers explained, young people believe that since these drugs are "prescribed by a doctor", they are not dangerous (like street drugs).  Addicts also get them by going to several unrelated physicians for multiple prescriptions.
The highest death rate is among people age 45-49 years old and men are more likely to die from unintentional poisoning than women.   Children have the lowest mortality rates because they do not abuse drugs as frequently as older adults.  Parents are reminded that when medicine comes  in "child-resistant" bottles---that does not mean "child-proof".    Never use a pill bottle as a rattle to entertain your child (yes, people actually do this!).