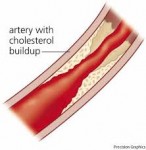 Early results of the ELITE study find women who started hormone therapy early after menopause saw a significant slowing of atherosclerotic progression, whereas those who waited more than a decade saw no impact on vascular health, supporting the "timing hypothesis".
"ELITE results are consistent with the majority of the literature that shows that women who are young and/or in close proximity to menopause when starting hormone therapy have reduced coronary heart disease and overall mortality," according to study leader  Howard N. Hodis, MD, of the University of Southern California in Los Angeles, and colleagues.
The Women's Health Initiative, aiming for cardiovascular prevention with menopausal hormone therapy, had raised major concerns about stroke and myocardial infarction (MI) in its somewhat older, later menopause population.  The KEEPS study subsequently showed that for a younger (ages 42 to 58) population, this may not be true.
ELITE was designed to directly test the hypothesis that timing makes all the difference in safety of hormone therapy after menopause.
"I think it's important that clinicians not interpret this as you should start estrogen to try to prevent heart disease, but that the younger, newly menopausal woman who has menopausal symptoms should not be denied hormone therapy because of concerns about heart disease risk, as was seen in older women," JoAnn E. Manson, MD, of Brigham and Women's Hospital in Boston, told MedPage Today.
"There are other factors to take into consideration [such as risk of thrombosis]," she explained. "But because a newly menopausal woman is generally at low absolute risk of heart attack, stroke, thrombosis, all of those outcomes, it tends to be a favorable balance of benefit-to-risk."
While suggestive that early hormone therapy wouldn't have an impact on later heart disease risk, "this trial wasn't large enough to look at clinical events," Manson cautioned.
To learn more about this study, click HERE.   To learn more about Menopause, click HERE.
---
Primary source: American Heart Association
Source reference: Hodis HN, et al "Testing the menopausal hormone therapy timing hypothesis: The early versus late intervention trial with estradiol" AHA 2014; Abstract 13283.