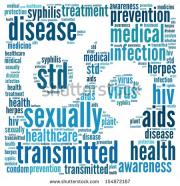 Most of us have heard of sexually transmitted diseases (STDs). It is very easy to read about STDs and think to ourselves, "well that will never happen to me." However, STDs are a major public health issue in the United States, especially among women. Women are disproportionately affected by these diseases, which include chlamydia, gonorrhea, and syphilis. Below is the CDCs list of 7 ways that STDs impact women differently than men. 
1. The vagina places women at risk for infection because it has a thin, delicate lining and a moist environment, two factors that make it easier for bacteria to enter and grow.
2. Women are less likely to experience symptoms of sexually transmitted diseases, which makes the diseases hard to notice
3. Women typically have normal discharge and burning/itching of the vagina is commonly related to yeast infections, which makes women more likely to confuse the symptoms of STDs with other vaginal infections
4. Due to the fact that the vagina is an internal organ, it can be harder for women to notice symptoms in their vagina. Men are more likely to notice sores and rashes on their penis because it is external.
5. Untreated STDs can affect women's reproductive systems and future plans for reproducing. These diseases, if left untreated, can result in ectopic pregnancy and even infertility.
6. Women who are pregnant can pass STDs to their babies and can result in brain damage, blindness, low birth weight, and even stillbirth.
7. The most common STD in women, Human papillomavirus, is the main cause of cervical cancer. HPV is also common in men, but they do not develop any serious health problems from the disease.
While this list may seem scary and daunting, know that there is good news! According to the CDC, women see their doctor more often than men, which means they should use this time to get Pap smears and get tested for STDs. There are also medications and treatments available for STDs that can prevent serious health consequences.
The CDC has a great list of resources available to learn more about STDs, how to protect yourself, and where to get testing and treatment: www.cdc.gov/std and findstdtesting.org.
Be sure to check out our upcoming blog series on STDs to learn more about specific diseases!
Source: