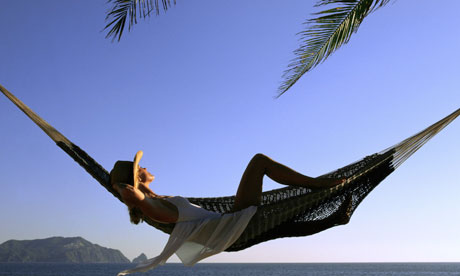 Hot flashes: most menopausal women have them, and all menopausal women hate them. For one in ten women, hot flashes occur for five years or longer, signicantly affecting multiple aspects of their lives including relationships and sleep. While hormone replacement therapy has largely addressed the issue of hot flashes in many women, other women have sough alternatives. Alternatives including yoga, acupuncture, exercise, and applied relaxation have all been helpful in women undergoing menopause.
Applied relaxation, in particular, has recently been studied in a small Swedish pilot study and proven to be beneficial. 60 women were divided into two groups: one was given relaxation exercises  to practice daily at home, and the other received no treatment whatsoever. After three months the treatment group lowered their number of hot flushes per day from an average of 9.1 to 4.4. The control group also noticed a decrease in hot flashes per day, but only from an average of 9.7 to 7.8.
Relaxation techniques include breathing exercises, guided imagery exercises, and calming music. Consider applying relaxation in replacement of or in addition to your hormone replacement therapy. For more information on how to incorporate relaxation into your therapy for hot flushes, visit our Northwestern menopause website here.