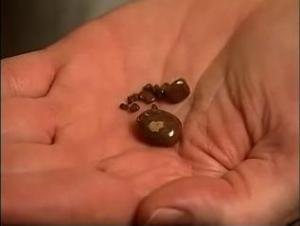 Researchers at the University of Texas Southwestern Medical Center report that estrogen therapy after menopause increases a woman's chances of developing kidney stones.  Kidney stones are common among postmenopausal women, affecting between 5% and 7% of the population in the U.S.  Up until now, only observational studies have been done looking at kidney stones and estrogen, and the results have been conflicting.   This study shows new evidence based on a randomized, placebo-controlled trial.
Lead study author, Dr. Naim Maalouf and colleagues conducted trials at 40 U.S. clinical centers where a total 10,739 post-menopausal women with hysterectomies and 16,608 post-menopausal women without hysterectomies were randomized to receive either an estrogen supplement or a placebo. Among those receiving hormones, 335 cases of kidney stones were reported versus 284 cases in the placebo groups.  In general, kidney stones are less common among pre-menopausal women than among men in the same age group, but the disparity lessens after menopause, suggesting that estrogen may have a protective effect.
However, study lead author Maalouf points out the study challenges the belief estrogen may protect against kidney stones.   "This research suggests that the opposite might be true, and it offers new information that might be considered when prescribing estrogen-replacement therapies to post-menopausal women," Maalouf says in a statement.
The study did not detect any link between kidney stone risk and body mass index, age, prior hormone therapy, coffee usage, diuretic usage, or ethnicity.
The exact mechanisms for these findings are yet to be determined.