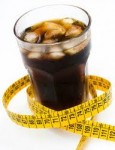 A new study from France suggests that women who drink large amounts of diet soda are at increased risk for type 2 diabetes. The findings also support the previously documented association between high intake of regular sugar-sweetened beverages and the condition, report Guy Fagherazzi, from the Center for Research in Epidemiology and Population Health, Villejuif, France, and colleagues in a study published online January 30 in the American Journal of Clinical Nutrition.
Prior research into the relationship between diet soda (artificially sweetened beverages) and type 2 diabetes has produced conflicting results, and while the current study does not necessarily imply causation, there are some biologically plausible mechanisms, the researchers suggest.
And given that diet sodas are "considered — and marketed — as healthier than sugar-sweetened beverages," the findings require further investigation, they say. In the meantime, the authors advise that "a precautionary principle could be applied to the promotion of [artificially sweetened beverages]."
"Our results — in accordance with a recent joint scientific statement of the AHA and ADA — strongly suggest the need to conduct randomized trials that evaluate metabolic consequences of [artificially sweetened beverage] components, such as artificial sweeteners, to prove a causal link between [artificially sweetened beverage] consumption and type 2 diabetes," the study authors conclude.
Am J Clin Nutr . Published online January 30, 2013. Abstract
Medscape Medical News © 2013  WebMD, LLC.  From an Article by Miriam Tucker