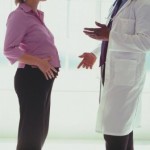 Some women need to take medicines during pregnancy for health problems like diabetes, depression, morning sickness or seizures. Always talk with your doctor, nurse, or pharmacist before taking any medicines, vitamins or herbs. Don't stop taking your prescription medicines unless your health care provider says that it is OK.
---
Lots of women need to take medicines while they are pregnant. Learn how you can sign-up for a pregnancy registry to share your experience with medicines.
Use these resources to help you talk with your health care provider about the medicines you take during your pregnancy.