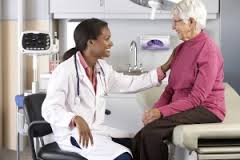 As women, sisters, wives, friends, mothers, daughters, and grandmothers, we must make sure that we are doing everything in our power to be at the top of our health, always. We are depended upon to set the healthy example for family and friends around us. Breast cancer and cervical cancer is not something that we can completely prevent or predict on our own, but as women, we do face these two possibilities and it is worth our while to keep our health as updated as possible.
To many women, getting a breast exam or a Pap smear tends to sound easier than it is, but it's not just about making the appointment. There are many aspects of getting these periodic exams that are not addressed and that can many times be the cause of why women postpone these exams and a possible diagnosis or treatment. It is always more difficult to ignore what needs to be done because of fear of a diagnosis, fear of machines, or fear of the unknown. However, there is so much more put at risk when responsibility to our health is neglected.
So why do some women fail to follow through with these periodic exams? An article in the American Journal for Public Health, 1993 took a look examining demographics. The results of this study revealed that the most likely to NOT go in and get the necessary breast or Pap smear exams at the appropriate times were:
Low income
Hispanic ethnicity
Low educational attainment
Over 65
Living in a rural area
Never been married
The following is recommended:
Yearly mammograms are starting at age 40 and continuing for as long as a woman is in good health
Clinical breast exam (CBE), an exam of the breast performed by a health care provider to check for lumps or other changes, about every 3 years for women in their 20s and 30s and every year for women 40 and over
Know your body and report any breast change promptly to their health care provider. Breast self-exam (BSE) is an option for women starting in their 20's.
Starting at age 21, have a Pap test every 2 years.
If you are 30 years old and older and have had 3 normal Pap tests for 3 years in a row, talk to your doctor about spacing out Pap tests to every 3 years.
If you are over 65 years old, ask your doctor if you can stop having Pap tests.
Ask your doctor about more frequent testing if:
You have a weakened immune systembecause of organ transplant, chemotherapy, or steroid use
Your mother was exposed to diethylstilbestrol (DES) while pregnant
You are HIV-positive
For information on how to "Prevent Yourself from Breast Cancer," click here. 

Source: www.womenshealth.gov