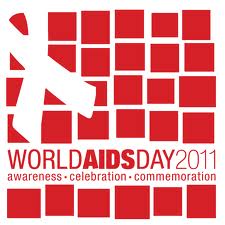 Today, World AIDS Day, is a good time to reflect on how this disease effects women since it's discovery in 1981.  HIV incidence among women increased gradually until the late 1980s, declined during the early 1990s, and has remained relatively stable since, at approximately a quarter of new infections (23% in 2009).  According to the Center for Disease Control (CDC), more than 290,000 women are living with HIV/AIDS in the US.
Women of color are particularly affected.   Black women accounted for two thirds (64%) of new AIDS diagnoses among women in 2009 and also accounted for the largest share of new HIV infections among women in 2009 (57%).   On the positive side, perinatal HIV transmission, from an HIV infected mother to her baby, has declined significantly in the U.S., largely due to treatments which can prevent mother-to-child transmission.
Globally the news is more dire.   Women represent about half of ALL people living with HIV worldwide, and more than half (59%) in sub-Saharan Africa.   Gender inequalities, differential access to services, and sexual violence increase women's vulnerability to HIV, and women, especially younger women, are biologically and anatomically  more susceptible to HIV.   In Southern Africa, young women are up to 5 times more likely to become infected with HIV than their male counterparts.
An important concern is the fact that young people ages 13-29 account for 39% of new infections in the US and 42% of new cases globally---the largest share of any age group.
Source:   Henry J. Kaiser Family Foundation