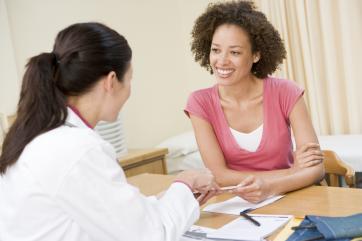 The truth about reproductive health education in the United States is troubling—and the medical community can help. There is currently no required standard for sex education in this country's schooling system, and of the 22 states that have mandated sex education instruction, only 13 require this instruction to be medically accurate! Often when schools do provide sex education, it is conflated with having sex, rather than an understanding of reproductive anatomy and function. With 1 in 4 college students contracting STD's and 42% of pregnancies resulting from inconsistent or incorrect contraceptive use, it's time to better educate our patients on sexual and reproductive health.
Often when people have questions regarding their reproductive health they may gather pieces of information from friends, social media, or less-than-reliable online magazines and discussion boards, rather than from those who have the capacity to provide reliable information—their doctors. Sexual and reproductive health has been convoluted and twisted through decades of misconceptions and unanswered questions to 'taboo' inquiries. It is now time to approach this topic as we would any other health concern—with openness and candor. Most patients would not feel embarrassed going to their doctor with questions relating to pain in their leg—but this same patient may go weeks or months before bringing up an issue related to their reproductive or sexual health. We know this won't change overnight. It's difficult and oftentimes awkward to discuss such private matters with one's doctor, but knowing one's reproductive health and its biological connection to holistic health is crucial in taking charge of one's body. So, what if there was a way to offer your patients accurate health information without taking time out of your scheduled appointment?
The answer is in a new, free online course developed out of Northwestern University. Dr. Teresa Woodruff, Vice Chair for Research in Obstetrics and Gynecology at Northwestern University, created Introduction to Reproduction, a free online class to teach basic concepts in sexual and reproductive health. This is a crash-course in all things reproduction and is comprised of a series of short 2-5 minute videos that can be watched by anyone, anytime, anywhere. Referring your patients to this course can break the ice and initiate a dialogue in this area, making them feel more comfortable with their own reproductive health--demystifying terms such as 'urethra' or 'cervix' and giving your patients more confidence in this area. Help us spread the word about Introduction to Reproduction, and play a crucial role in changing the tide in sexual and reproductive health knowledge!