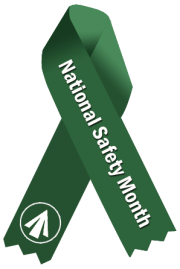 The month of June is National Safety Month, led by the National Safety Council (NSC), and focuses on bringing attention to and reducing the leading causes of injury and death on the road, at work, in homes, and in communities. Every year, the month has a theme that serves as the focus of the NSC's educational goals. This year, the theme is "What do you live for?" a simple question that encourages us to all think about what is important in our lives and to shape our safety goals in that direction. Here are some summer safety tips!
Heat Safety
Summer months get hot and everyone is at risk for heat-related illnesses.
Drink water frequently to stay hydrated
Use sunscreen with an SPF of 15 or higher
Never leave children or pets unattended in a vehicle 
Water Safety
About 10 people die from drowning every day. Keep yourself and your kids safe in the water during the summer.
Enroll kids over the age of 3 in swim lessons
Don't solely rely on lifeguards to watch over kids
Never leave your child unattended in or near water
Window Safety
With warm weather come open windows to let in the breeze. Around 8 children under the age of five die each year and more than 3,300 are seriously injured from falling out of a window.
Keep children's play safely away from windows
Close and lock windows when children are present
Move furniture away from windows
Do not open the window more than 4 inches
Firework Safety
Fireworks are a summer staple and are beautiful to enjoy. However, over 11,000 people are severely injured during firework-related incidents every year.
Never allow children to handle fireworks
If you are using fireworks or standing nearby, wear protective eyewear
Never light fireworks inside and light them away from people, flammable material, and houses
Maintain a safe distance after lighting
Keep a bucket of water nearby in case of fire
Remember: part of being healthy is being safe!
Sources:
US Consumer Product Safety Commission