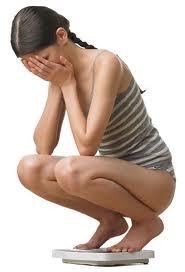 This month, the French government is considering a bill that would ban the use of ultra skinny models with a body mass index (BMI) below 18 on the runway or in photo shoots.  Modeling agencies and fashion houses who do not comply could be fined up to $79,000 and may have to serve jail time.   Italy, Spain and Italy already have similar laws in place.
As of today, this blogger could not find any similar legislation or regulations in the United States.   The Council of Fashion Designers in America has formed a "health initiative" to address this growing concern but it focuses on health education and awareness and does not have any real regulatory power.  In fact, the organization states that this in not a policy initiative and does not recommend that the industry require any medical exam to assess the health status of its models.    The fact that 10 out of 100 young women are diagnosed with an eating disorder does not seem to bear any weight on their decision. 
Why should we care what the fashion industry does?   According to the National Association of Anorexia Nervosa and Associated Eating Disorders:
The body type portrayed in advertising as the ideal is possessed naturally by only 5% of American females.
47% of girls in 5th-12th grade reported wanting to lose weight because of magazine pictures.
69% of girls in 5th-12th grade reported that magazine pictures influenced their idea of a perfect body shape.
42% of 1st-3rd grade girls want to be thinner 
81% of 10 year olds are afraid of being fat
As young people follow the trends for fashion and glamour on social media 24/7, isn't it time we step to the plate?