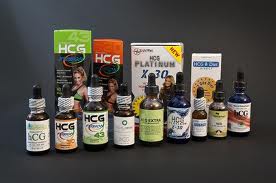 The Food and Drug Administration (FDA)  and the Federal Trade Commission said over-the-counter weight loss products containing human chorionic gonadotropin (HCG) are fraudulent and illegal, and the agencies have told seven manufacturers to stop selling them.  They have become a popular but fraudulent fad.
"There is no substantial evidence HCG increases weight loss beyond that resulting from the recommended caloric restriction," said Elizabeth Miller, acting director of the FDA's fraud unit for OTC products.
The manufacturers' recommended diet while taking HCG is as low as 500 calories, low enough to create a risk of malnutrition, electrolyte imbalance, cardiac arrhythmias, and gallstone formation, Miller said.   Almost anyone who limits their diet to 500 calories will loose weight without ANY supplements, making the supplement useless.
The warning letters sent to manufacturers of the products note that HCG has not received FDA approval for any weight loss indication. The substance is approved as an injectable drug for certain forms of female infertility and is therefore clearly subject to FDA regulation.
HCG weight-loss products are typically sold over the Internet, often promoted with unsolicited "spam" emails, with such claims as "Lose 26 pounds in 26 days" and "Resets your metabolism."
The companies have 15 days to inform the FDA of the steps they have taken to correct the violations. Theoretically, the firms could seek FDA approval for the weight-loss claims, but the agencies expect that they will simply stop selling the products.  If not, the FDA will take action.   Many of these products are labeled as homeopathic remedies, but they are illegal whether the word "homeopathic" is used or not, said Richard Cleland, assistant director of the FTC's advertising practices division.   If the product is marketed or meets federal standards to qualify as a drug, but is not FDA-approved, it cannot be sold legally, Cleland said.
The seven companies receiving the warning letters, in addition to HCG Diet Direct, included Nutri Fusion Systems, Natural Medical Supply (doing business as HCG Complete Diet), HCG Platinum, Theoriginalhcgdrops.com, and HCG-miracleweightloss.com.