Dr. Sabra L. Klein, an assistant professor of molecular microbiology and immunology at the Johns Hopkins Bloomberg School of Public Health, and Phyllis Greenberger, the president and chief executive of the nonprofit Society for Women's Health Research, recently wrote an opinion piece for the New York Times called, "Do Women Need Such Big Flu Shots?".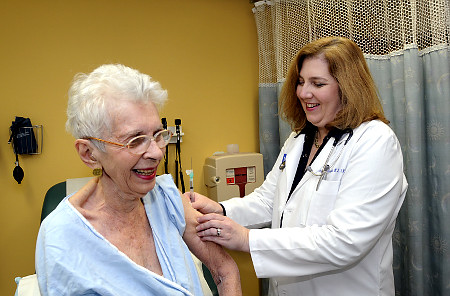 Image: McAlpin, NYdailynews.com
The gist of their argument is actually based on the same idea as many of our recent blog entries: women, on average, have a much stronger immune system than men. The authors cite studies that demonstrate that women produce more antibodies in response to the same vaccine dose than men do. The authors conclude that women could therefore be given a smaller dose of the H1N1 flu vaccine and still get the same protection; the vaccine that is saved by giving women smaller doses would allow more people to get the much in-demand shot.
It's an interesting hypothesis that really highlights the need for more gender-aware research and clinical trials. Sure, women were included in the clinical trials of the vaccine, but were they ever tested with a more tailored dosage? I'd guess not; I'd imagine the tests were more simply on the efficacy of the standard, male-tailored dose in women, not on whether a different dose could work as well. I applaud the article for highlighting these questions that definitely need to be addressed!