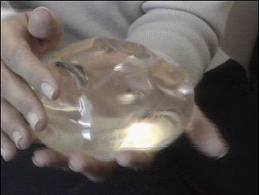 After an intensive review of known cases of a rare form of cancer in breast implant recipients, the Food and Drug Administration says women with implants may have a very small, but increased risk of developing anaplastic large cell lymphoma, or ALCL.
FDA scientists reached that conclusion after examining scientific literature that focused on cases of ALCL in 34 women with breast implants, as well as information from agency reports, international regulatory agencies, scientific experts, and breast implant manufacturers.
But with an estimated five to 10 million breast implant recipients worldwide, agency experts say the known ALCL cases are too few to say conclusively that breast implants cause the disease. FDA believes there are about 60 of these ALCL cases worldwide, though that number is difficult to verify because not all of them were chronicled in scientific publications and some reports may have been duplicated.
In an effort to gather more information, FDA and the American Society of Plastic Surgeons are establishing a registry of ALCL patients who have breast implants. FDA scientists hope the registry yields enough information to better understand what the risks for developing ALCL are for women with breast implants.
The Institute for Women's Health Research at Northwestern University encourages women to participate in the registry that is being set up so that researchers will be able to confirm whether there is a statistically significant risk.  More studies are needed and this registry will provide a tool that will be very valuable.   To read the full FDA advisory, click HERE.