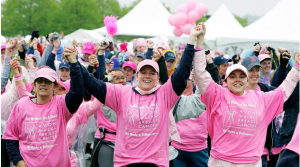 October is Breast Cancer Awareness Month, and, in the city of Chicago there are many ways to get involved.  Classes, races, walks, performances, and seminars are scattered throughout the month of October. If you live in the Chicagoland area and want to honor breast cancer survivors, learn more, or raise awareness and funding to continue combating this cancer, be sure to check Eventbrite's Breast Cancer Conferences calendar to see what's going on in your area.  Your Northwestern community is also conducting symposiums and meetings on breast cancer this month.
If your schedule is too full for events, taking the PLEDGE is a simple way to educate yourself and others about breast cancer. The PLEDGE involves:
Prevention—ask your doctor and identify ways to reduce your risk of breast cancer
Learning—do your own research to increase your knowledge
Examination—get screened for breast cancer
Density—speak with your doctor about your breasts' density to determine which screening approach is appropriate
Genetics—discuss your family history of breast cancer with your doctor to analyze your potential level of risk
Educate—teach others to take the PLEDGE
Over the course of a lifetime, a woman has a 12.3% risk of being diagnosed with breast cancer. Speak with your doctor, educate yourself, and educate others.
Source: ABC News