For Northside College Prep senior, Jennifer Tegegne, women's health has always been an area of educational and personal interest. Prior to moving to Chicago, Tegegne and her family lived abroad in Ethiopia and Kenya where she witnessed health disparities first hand, prompting her desire to pursue a career in healthcare. "I saw that women's health was often times neglected in developing countries and [now I] hope to work in increasing accessibility and advancement in the field," she states.
Participating in the Women's Health Science Program at Northwestern University seemed like a natural fit for Tegegne, who is also a member of the Northside College Prep Medical Club and Science Olympiad Team. "It was very exciting to find a program that helps girls like me to succeed in the male-dominated field of medicine," Tegegne shares.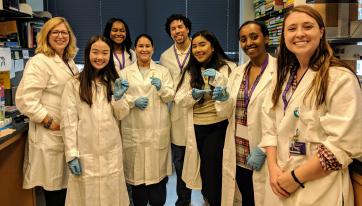 WHSP Alumna Jennifer Tegegne (second from right) with Director, Dr. Teresa Woodruff (far left), fellow WHSP students, and Northwestern University graduate students.
For the past decade, the Women's Health Science Program has fostered the next generation of female leaders in science and medicine. Students who are selected to participate in the Women's Health Science Program are exposed to a variety of hands-on laboratory and clinical experiences within the Feinberg School of Medicine. Led by Dr. Teresa Woodruff, the program has over 200 alumnae, more than 70% of whom have gone on to pursue a STEM-based degree.
Like many of her fellow "Science Sisters," Tegegne will continue her education in the biomedical sciences. This fall, she plans to attend Yale University and major in Molecular, Cellular, and Developmental Biology. She credits the Women's Health Science Program as a transformative experience, "...[It] was hands-on, pre-professional and in a more mature setting. It helped me start a path necessary to partaking in research in college." 
"Taking part in WHSP definitely changed my perception of scientific inquiry," she continues, "it is now more clear that researchers are very essential to medical development in our changing world."
In addition, Tegegne was inspired by Northwestern students, faculty, and fellow participants. "I enjoyed meeting amazing and accomplished professionals in addition to my fellow Science Sisters who were brilliant and driven. I was able to talk to the head of the Feinberg anatomy lab and a researcher who was pursuing an MD/PhD. I got to learn more about different professions and got advice on being pre-med."
She encourages others to participate in the program not only because of its "welcoming and exciting," environment but because of the potential impact it can have on students. "I hope that this program is able to reach many young women because there is a dire need for more equitable Science education."
Applications for the Women's Health Science Program Class of 2019 will be accepted until Friday, June 7th. To learn more please visit whsp.northwestern.edu.