On Tuesday, November 20th, 8 members from the Women's Health Science Program Class of 2018 came to Northwestern University for an afternoon visit focused on careers in medicine.
The students started their visit with a trip to the Shirley Ryan Ability Lab  (SRAL) to learn about Physical Medicine and Rehabilitation from Dr. Leslie Rydberg, Assistant Professor of Physical Medicine and Rehabilitation. They had the opportunity to tour some of the facilities at SRAL to get a better understanding of the integrated approach to research, medicine, and rehabilitation.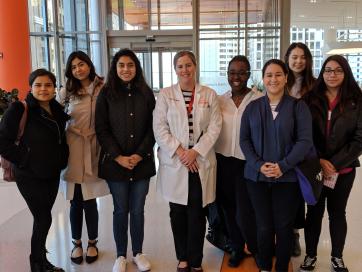 WHSP Students Meet Dr. Leslie Rydberg at the Shirley Ryan Ability Lab  
Next, students attended a special monthly Women's Health Research forum featuring Dr. Suzanne Harrison, Professor of Family Medicine & Rural Health and Director of Clinical Programs from Florida State University College of Medicine. Dr. Harrison, who is also the immediate-past president of the American Medical Women's Association met with WHSP students over lunch, alongside several Northwestern University medical students. Students had the opportunity to speak with Dr. Harrison about her work in Family Medicine as well as advocacy activities related to the promotion of women in medicine.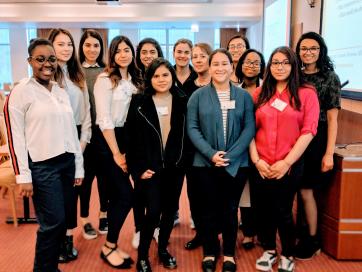 WHSP and Feinberg School of Medicine Students meet with Dr. Suzanne Harrison
Later in the afternoon, students met with Dr. Shikha Jain, Northwestern Health System Clinician of Medicine (Hematology and Oncology), to discuss the subspecialty of hematology-oncology and the use of social media in medicine. Dr. Jain advised students on the appropriate use of social media as they consider their future careers, and discussed how it could be beneficial for networking.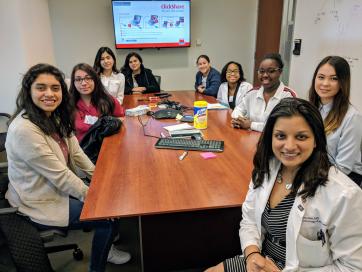 WHSP Students Learn About Hematology-Oncology From Dr. Shikha Jain 
Lastly, Dr. Jennifer Pinkus, Assistant Professor of Pathology, organized a career panel for WHSP students showcasing a variety of careers in pathology such as pathologists,  pathology assistants, histo- and cytotechnologists, and cytogeneticists.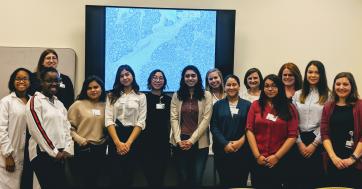 WHSP Students With Dr. Jenny Pinkus and Staff from the Department of Pathology 
The WHSP students look forward to their next visit to campus this spring, which will focus on the basic sciences and include a tour of the Evanston campus.
The Women's Health Research Institute is grateful to all the faculty and staff who participated in this event and who demonstrate a commitment to the next generation of leaders in science and medicine.
To learn more about how you can support the Women's Health Science Program, please contact Dr. Niki Woitowich at nicole.woitowich@northwestern.edu.