The Women's Health Research Institute is pleased to announce the recipients for the 2019 Shaw Family Pioneer Awards. This year, awardees include:
Matthew J. Major, PhD, Assistant Professor in the Department of Physical Medicine and Rehabilitation for his project "Characterizing the gait biomechanics of women with leg amputation for improving evidence-based rehabilitation practice,"andBria Coates, MD, Assistant Professor in the Department of Pediatrics (Critical Care) for her project, "Impact of sex and NOD-like receptor activation in prepubertal influenza A virus infection."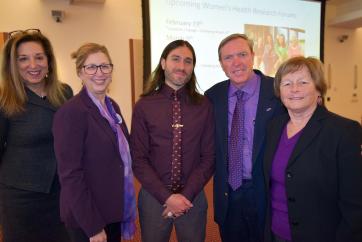 Matthew Major receives the Shaw Family Pioneer Award at the 3rd Annual Celebration for Sex Inclusive Science on January 25th, 2019. Pictured (Left to Right): WHRI Co-Director Marla Mendelson, MD, WHRI Founder and Co-Director Teresa K. Woodruff, PhD, Matthew Major, PhD, Robert Shaw ('70 , '81), and Charlene Shaw ('70). Photo courtesy of R. J. Garrick, PhD, NUPOC. 
Established in 2018, the Shaw Family Pioneer Awards provide support for Northwestern University investigators who conduct or are interested in pursuing sex-based research. The awards also enable early-career investigators to conduct pilot studies that will help build their portfolio and enhance their ability to compete for larger federal grants.