Did you know that on average, people spend approximately 1 to 2 hours outdoors every day during in the summer months? Some sun exposure is actually good for us, as it helps our body produce vitamin D. However, when we spend too much time in the sun without adequate protection we run the risk of sunburn which can lead to skin damage and ultimately an increased risk of skin cancer.
How is sunlight harmful?
The sun emits ultraviolet (UV) radiation which can cause both short-term and long-term changes to our skin. Short-term changes occur after a sunburn, as UV damage triggers an inflammatory response in the skin. At the molecular level, UV radiation has the ability to damage our DNA. Repeated exposure to the sun can cause long-term changes to our skin cells that make them more susceptible to cancer as well as cause premature aging of the skin.
How can we protect ourselves?
The best way to prevent sunburn or other harmful effects of the sun, is to stay in the shade, wear protective clothing, and apply a sunscreen with a Sun Protection Factor (SPF) of at least 15.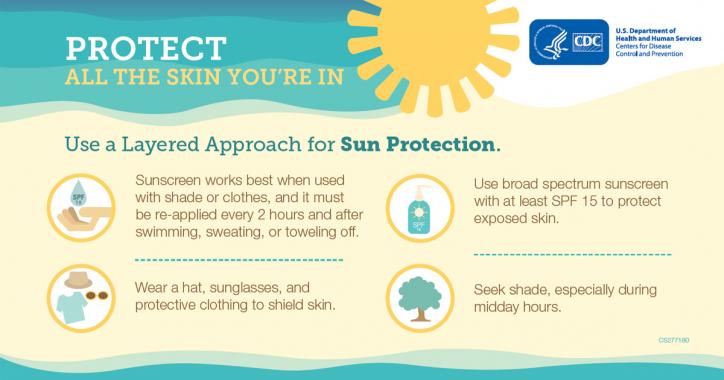 Don't forget to protect your eyes as well!
Sun exposure has also been linked to the development of cataracts. The CDC recommends wearing sunglasses which contain both UVA and UVB protection, which cover the two main types of UV radiation.
If you are interested in learning more about sun exposure and how to protect yourself this summer, consider checking out the following resources: